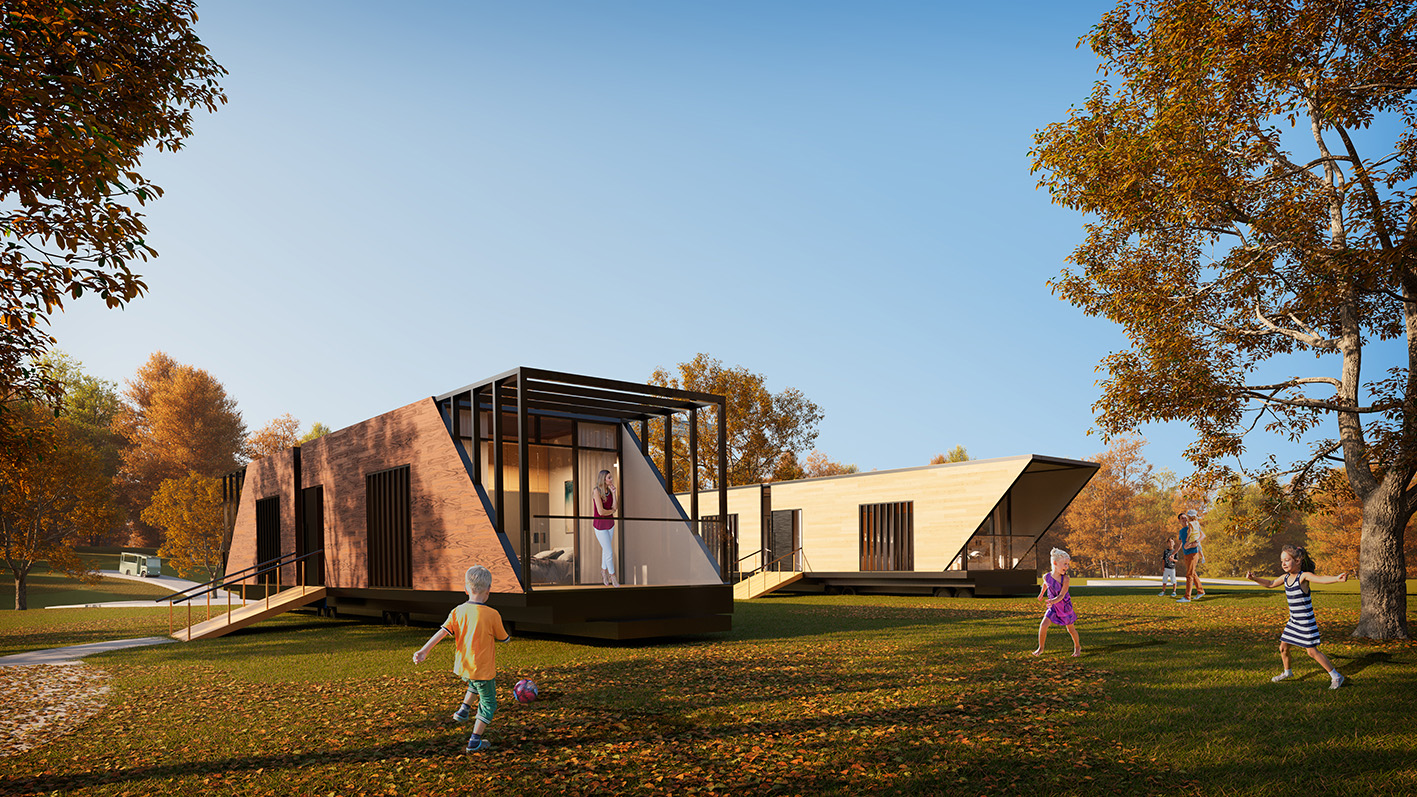 Grand Designs Live
Studio Anyo Launches the Torp Lodge
Team members attended Grand Designs Live, as the Launch of Torp Lodges, a flexible, aspirational accommodation solution in Birmingham which took place between the 6th – 10th October 2021.
The launch of Torp comes as investors are turning to the leisure market, fuelled by growth in domestic holidays, an appetite for outdoor living and the need to tread more lightly on the planet. Torp will help holiday parks evolve to offer the lodge experience sought at the higher end of the market, combining the outdoors escape provided by glamping with the comfort of home and the design of a boutique hotel.
James Walsh, group CEO, Studio Anyo, said: "There is a dearth of products which can meet the demands of the luxury guest who wants a stay where they can enjoy the natural world in a refined setting."
"We want to transform the static caravan market and bring high quality and high design into a segment which is being targeted by the investment community. This summer has encouraged investors to look at leisure afresh and Torp is a flexible solution which can give caravan parks and hotels an additional revenue stream."
Torp meets the definitions of a caravan, so can be sited on land attached to residential properties without requiring planning permission, allowing it to be used as accommodation in a range of settings, including providing extra rooms for hotels. The lodges satisfy increased demand from consumers for sustainable stays, with timber frames, LED lighting and a range of measures including key-card access linked to lighting to reduce energy consumption. Additional options include green roofs and solar panels. The group is also producing pet-friendly lodges, which will include easy-clean furniture, enclosed spaces and pet showers.
Back-to-nature holiday brand, Landal GreenParks UK will be supporting Studio Anyo in the development and rollout of Torp as part of the group's expansion plans across the UK. A number of Torp lodges will be available at Landal's newest resort, Landal Barnsoul, and part of the luxury accommodation offering situated in the stunning natural surroundings of Dumfries and Galloway.
Robbie Davies, development director for Landal GreenParks UK said: "There is a gap in the market for a high-quality product which feels different from the mainstream. Torp sets new standards for the holiday lodge sector and is in keeping with the core elements of the Landal brand ethos: luxury, nature and sustainability. The popularity of domestic holidays continues to increase at rapid rates and we're confident that with next generation accommodation options such as Torp, we will be able to expand our reach towards even more customers who have a thirst for design, quality and innovation in stunning surroundings."
Torp takes its name from the Swedish word for small rural dwelling, sometimes farm, sometimes cottage and more recently, rural escape.
Kunle Barker, Torp brand ambassador and Studio Anyo non-executive director said: "I always wondered why being closer to nature meant compromise. Warmth, design quality and comfort should go hand in hand with being closer to nature. Torp is just that, natural living without compromise."